Sustainability
Home >

Sustainability Statement
Sustainability Statement
OVERVIEW
Our third year Sustainability Report shares Oriental Holdings Berhad's sustainability progress across our Group, looking through the perspectives of economic, environmental and social. In the report we have highlighted our sustainable developments for the financial year 2018. We hope that our report delivers a fair and balanced view of our position and performance on the identified material matters. We are firm believers that through a sustainable approach in our daily operations, we ease the process of risks identification, better enabling us to minimise risks and even developing them into possible opportunities.
Our Sustainability Report has been prepared in reference with GRI Standards to meet Bursa Malaysia Securities Berhad Main Market Listing Requirements.
GOVERNANCE STRUCTURE
The Board Sustainability Committee (BSC) comprises our Executive Directors who are responsible to provide advice and assistance to the Board on monitoring decisions and management action plans towards achieving the Group's goal of being a sustainable organisation. The Sustainability Working Committee, consisting of the senior management, will assist the BSC to meet its oversight responsibilities in relation to the Group's sustainability initiatives and performance.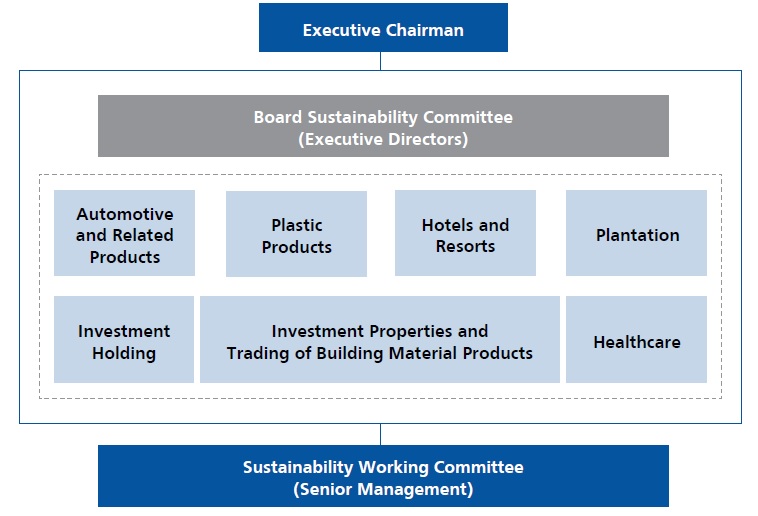 SCOPE
Our Sustainability Report covers the sustainability performance and progress from all segments for the financial year ended December 2018, unless otherwise stated.
SUSTAINABILITY MATTERS
The three sustainability matters are as follows:-
1. Economic
We value the relationships we have fostered over the years, built strongly on the foundation of trust and values. We ensure all measures are in place towards supporting all aspects of sustainable economic growth. The mechanisms we have put in place such as codes of conduct as guide for our day-to-day business operations. We truly believe that our business will grow only when we uphold strong ethical principles and moral integrity.
2. Environment
As a conglomerate, we understand the environmental impact that arises from our diverse business activities. We constantly strive to reduce any impact from our operations. We proactively take constructive and progressive action towards developing data, mechanisms and processes to integrate and consider our environmental impact arising from our business strategies. We also consistently discuss environmental matters at management level to address the Group's environmental concerns.
3. Social
We strongly believe that prioritising the importance of keeping our people engaged and motivated is directly correlated to our growth and acts as a key driver in achieving our mission. We value a healthy and safe work place, which stimulates and positively supports our people to achieve outcomes in a safe manner, all contributing to operational effectiveness and business sustainability. We are committed to deepening our understanding of social issues and our responsibility to the societies where we conduct our business.
For more detailed disclosures on our sustainability efforts, please refer to our Sustainability Report 2018, available at our corporate website www.ohb.com.my.
FORWARD-LOOKING STATEMENT
As we continue to develop and expand regionally, we remain committed to adopt best practices in our daily operations and business processes while continuously contribute a positive influence on our sustainable development. We strive to embody our corporate vision, mission and values through our commitment to sustainability. Thus, we will continue to report our approach, performance and progress based on the three pillars of sustainability – economic, environment and social annually.