Sustainability
Home >

Sustainability Statement
Sustainability Statement
OVERVIEW
The Sustainability Report 2017 shares Oriental Holdings Berhad (OHB)'s sustainability journey covering the successes and challenges faced over the past year. Our report articulates the continuous dedication in improving the integration of sustainability into our working environment across all divisions worldwide. Raising the bar towards aligning our initiatives with the Global Reporting Initiative ("GRI") Standards, we aspire to enhance key areas and address the gaps identified. The report further enunciates the positive growth we have achieved in creating an impact in economic performance, environment, social and community.
Our Sustainability Report has been prepared in reference with GRI Standards to meet Bursa Malaysia Securities Berhad Main Market Listing Requirements.
GOVERNANCE STRUCTURE
The sustainability management is governed by the Board of Directors, which oversees the Members of Committees. The structure ensures efficiency and effectiveness in identifying, managing and implementing our sustainability matters.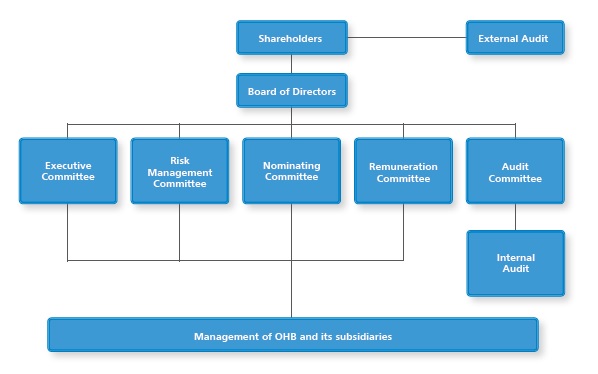 SCOPE
Our Sustainability Report focuses on key industries mainly Automotive, Plantation, Hospitality and Healthcare and is attempted to cover issues that are material to OHB (selected subsidiaries) for the financial year ended December 2017. Moving forward, the report will include the rest of the industries.
SUSTAINABILITY MATTERS
The three sustainability matters are as follows:-
1. Corporate Governance
We constantly benchmark ourselves against our peers and across industries, consult with corporate governance experts and engage with key stakeholders to strengthen our processes at OHB. Compliance and governance are infused in every aspect of our business. Our commitment in instilling good governance is underscored by an extensive system of policies, processes, training and communications.
2. Environment
We constantly strive to reduce environmental impacts throughout our operations. We take constructive and progressive actions to develop data, mechanisms and processes to integrate environmental impacts in our business strategies.
3. Social
We strongly believe that prioritising the importance of keeping our people engaged and motivated correlates to our growth as well as the key driver in achieving our mission. We also value a healthy and safe work place which stimulates and positively supports our people to achieve outcomes in a safe manner, thereby contributing to operational effectiveness and business sustainability. We are committed to deepening our understanding of social issues and our responsibility to the locals.
For more detailed disclosures on our sustainability efforts, please refer to our Sustainability Report 2017, available online via our corporate website www.ohb.com.my.
FORWARD-LOOKING STATEMENT
We want sustainability to be part of our business processes, beyond compliance and reporting. The Group is committed to embrace the real meaning of sustainability by revisiting and including sustainability aspects in our current policies and practices. We look forward to establish better tracking mediums to evaluate and consider valuable changes.